Welcome to
Cypress Ridge Golf Course
Welcome to
Cypress Ridge Golf Course
Welcome to
Cypress Ridge Golf Course
Shawnee County stay-at-home mandate is taking effect
 Thursday, March 26th at 12:01am.
All three Shawnee County Golf Courses will be CLOSED for the next 30-days starting Thursday, March 26th.

Cypress Ridge Golf Course offers a great challenge for golfers of all ages and skill levels. With 6,200 rolling yards of excellent golf Cypress Ridge is located on the western edge of the Capital City and is conveniently located approximately one and half miles west of the Wanamaker corridor just south of 21st street.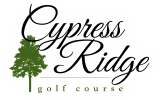 LOCATION
Cypress Ridge Golf Course
2533 SW Urish Road
Topeka, Kansas 66614